The Inayati Order of Greater Boston is devoted to meditation instruction, spiritual growth, and the teachings of Hazrat Inayat Khan, Pir Vilayat Inayat Khan, and Pir Zia Inayat-Khan. It sponsors classes and events occurring around southeastern New England at a number of locations. It is a collaborative of centers of the Inayati Order, an interfaith organization dedicated to spiritual growth and development.
Classes and Announcements
Due to the Coronavirus pandemic, in person classes are either being cancelled or changed to Zoom meetings.
We are continuing our series of Universal Worships online with Zoom, see below or the Boston page. The next service has been changed to June 20th, 2020.
For a complete listing in your area, see the Cambridge, Boston, Marblehead, Dartmouth, or Rhode Island pages.
Upcoming Events, Retreats and Classes
Universal Worship
A Celebration of One Human Family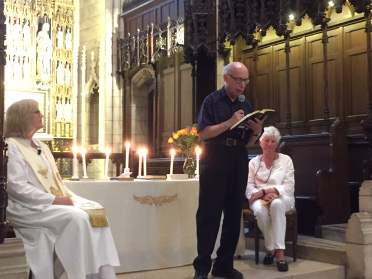 On the Theme
Devotion to Spirit
Honoring the Urs and Birthday of Pir Vilayat Inayat Khan
Saturday, June 20th, 2020, 3:00 - 5:00 PM
Including time for Memories of Pir Vilayat and Community Check-in Following the Service
Online Zoom Meeting, RSVP for connection information
The Universal Worship is an inspired service of unity, bringing together many of the world's religions at one altar, in joyful celebration as a human family. Through the lighting of candles and the sharing of illuminating stories, chants, prayers and scripture readings from the world's major religions, we give expression to each one's religious ideal, and grow in tolerance, respect and appreciation for the wisdom behind them all. The service is usually about an hour to hour and a half long, and will be facilitated by area Cherags: Hurakhsh, Qalbi, Iris, Jim, Hermione, and our dear friend Rachel, and others. There will be a time for community check-in after the Service. This is an opportunity to be together in community and friendship!
Donations are gratefully accepted to cover costs, see the donation button near the top of this page.
Please arrive a few minutes before the 3 PM start time.
Please RSVP hermionelg2#gmailc?Subject=Universal Worship RSVP if you plan to join us, so we know how many to expect for the service, and can send you the prayers to be used. We look forward to seeing you there!
---
"Thus the ultimate purpose for which the soul is seeking every moment of our life, is our spiritual purpose. And you may ask how to attain to that purpose. The answer is that what you are seeking for is within yourself. Instead of looking outside, you must look within. The way to proceed to accomplish this is for some moments to suspend all your senses such as sight, hearing, smell, touch, in order to put a screen before the outside life; and by concentration and by developing that meditative quality you will sooner or later get in touch with the inner self which is more communicative, which speaks more loudly than all the noises of this world; and this gives joy, creates peace, and produces in you a self-sufficient spirit, a spirit of independence, of true liberty."
-- Hazrat Inayat Khan
---