---
Boston/Jamaica Plain, MA
---
The Hermit and the Knight
One Day Meditation Retreat
with Aziza Scott
Sunday, May 6th, 2018
9:30 am to 4:30 pm
Hollow Reed School, 93 Sedgwick St., Jamaica Plain, MA
Pir Vilayat Inayat Khan would speak about how we have within us both the archetype of the Hermit and of the Knight. The Hermit retreats into the sacred atmosphere to remember, to renew, and to align with their ideal. The Knight is called to uphold the ideal in the world.
How do we interact in the world with integrity and compassion? How can we hold our point of view and yet understand that of another?
Aziza will share teachings, practices, and meditations which seek to honor and cultivate the Hermit and the Knight within us.
Aziza Scott, M. Ed., is the emerita head of the Esoteric School and Director of the Retreat Program of the Inayati Order. She brings insight and experience gained from many years of leading meditation retreats and conducting workshops throughout North America, Europe, and India.
Cost is sliding scale $50 - $95. Potluck lunch.
RSVP Naima Khabira (617) 522-0800 x3 / inayatiorder?Subject=Aziza retreat.
Get the printable flyer here.
Universal Worship
A Celebration of One Human Family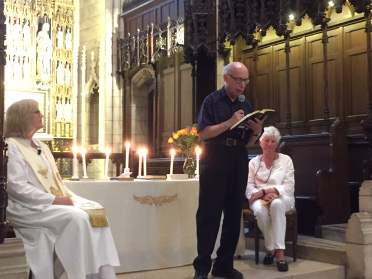 Lindsey Chapel at Emmanuel Church
15 Newbury St., Boston, MA (in the Back Bay)
Tentative Dates: Saturday, Jun. 9th, and Saturday, Sept. 8th, 2018, 3:00PM
Watch for email confirmation one month in advance
We join together in Universal Worship, Hazrat Inayat Khan's inspired service of unity, bringing together many of the world's religions at one altar in joyful celebration as one human family. Through the lighting of candles and the sharing of illuminating stories, chants, prayers and scripture readings from the world's major religions, we grow in tolerance, respect and appreciation for the wisdom behind them all.
The service is usually about an hour long and is facilitated by Reverends Hermione Garland and Pauline Medice, joined by friends. Volunteers are welcome! Donations are gratefully accepted to cover costs.
We have arranged discounted parking nearby for $10.00 for 11 hours. Details and directions can be downloaded from this link.
We generally reserve a table for those who would like to eat together after the service at Thai Basil Restaurant, 132 Newbury Street, downstairs. The restaurant is nearby, and the food is delicious and reasonably priced! Please RSVP to the email we will send in advance of the service if you plan to join us, so we know how many to expect for the service and include in the reservation. If you are not on our email list, and would like to be notified, please send a request to inayatiorder. We look forward to seeing you there! Details and directions can be downloaded from this link.
Private Guided Meditation Retreats
Senior Sufi Teacher & Retreat Guide (36 years) Saphira Linden is offering individually guided retreats by Saphira and other Sufi Retreat Guides for any length of time (1-30 days) in a Sufi Retreat Center in Jamaica Plain. For more information call (617) 522-8300 or (617) 522-4181.
---